Creating More Joy with Sara and Alana from Poppies for Grace
"For us it is more about joy and finding moments of joy in the midst of life. Life is such a wild dance of the hard moments and the moments to celebrate, and we want to make it easy to celebrate."
- Sara & Alana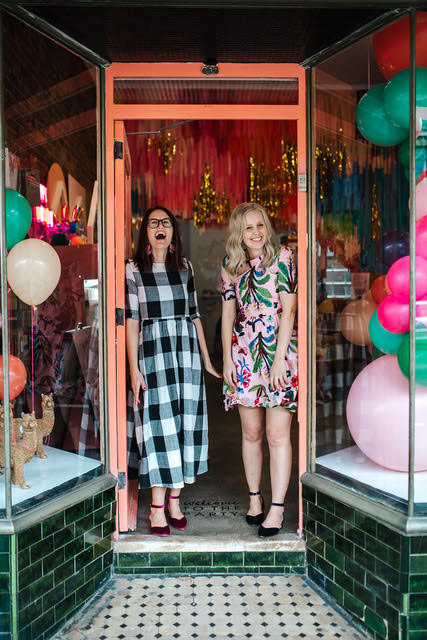 Q&A with Sara and Alana from Poppies for Grace
The gals behind Poppies for Grace talk about creating more joy, finding moments of celebration and turning their day dream into real life!
Q: Sara and Alana, you bring colour and fun to celebrations right across the country, tell us all about your amazing brand, Poppies for Grace.
A: We made our first sale in 2004 and it has been a wild ride ever since!
Since that first sale we have grown and dreamt, made mistakes and had fun along the way. We are blessed to be surrounded by family and a team who allow us and empower us to follow the Poppies dream. We have learnt that hard work, courage and fun are needed in equal measures.
Our current range includes jumbo confetti balloons, confetti, honeycomb balls, streamer sets, balloon pops and cake stands. Every colour is our favourite.
Most importantly we believe in joy, cake, thankfulness and celebrating!
Q: Encouraging celebrations of all kinds is what you're known for and we love that! So, why is celebrating so important?
A: For us it is more about joy and finding moments of joy in the midst of life. Life is such a wild dance of the hard moments and the moments to celebrate, and we want to make it easy to celebrate. We want people to take the time to stop and enjoy being with each other. We want people to stop and notice joy and goodness around them. It is a great privilege to be able to bring a little of that into people's lives.
Q: To work alongside your best friend sounds like a dream! How did you know you were both the right fit for each other, in business?
A: Lucky fluke! It would have sucked if we weren't a good fit! We have very different skill sets & we both value each others opinions, so there is not one person making all the decisions, I think that helps, we are standing side by side in this.
Q: Congratulations on your store opening recently, that is huge! Can you describe the feelings that you both felt when you were finally able to open those doors?
A: Like living right in the middle of a day dream!
It was surreal and wonderful and overwhelming and joyful. Our team turned our wild daydream into a real life shop! We are so grateful that we have had this opportunity and we are revelling in every minute of it.
Q: On this amazing journey that you have both had so far, what have you learnt about yourselves along the way?
A: In small business it is so easy to go to 'the ship's sinking' whenever there is a downturn in sales, or we don't get the balloon job, or it's a quiet week. We befriend fear way to easily. So we are mindful of that & we don't watch the bank account like hawks.
We can do much harder things than we thought we could. And all those things we are scared of, are not so scary up close.
We have learnt that gratitude and joy changes the air around us, it changes people's hearts and minds, it can turn a situation on its head – it has changed us forevermore.
We need people around us. Good people who call out the good in us and encourage us on.

Q: On a more personal note, are you able to share the key to managing a growing business, expressing your creativity and motherhood, all at the same time?
A: We want to show our children what strong women look like, so we follow our dreams & we tell them about our failures. We show them what hard work looks like & we remind them constantly that we belong together, that we can choose joy & connection, no matter what's going on. We play together, that helps!
Expressing creativity & making things, fills up our sails, so we feast on it, we surround ourselves with inspiration- books, music, artists, poets, all of them are our friends.
Managing a growing business is all about Delegation & Honour. Having a team that carry skills that we don't have, means this thing works! We are not individually trying to keep seven balls in the air. We have one ball each, that's it. We encourage each other, we celebrate what the other brings & we recognise their strengths. On the other hand keeping tight control of everything, that just makes more work for the one & in long term that is going to blow up in your face.
Q: Here at the Launch Gals, we are all about supporting, encouraging and empowering the women around us. What would you say to the women who want more, but may be scared to take that next step?
A: Anything we can do, you can do!
Don't wait for the 'right time'. There will never be a 'right time'. Choose to start now and be all in. Surround yourself with people who will encourage you and cheer you on, who compliment your skill set, who you trust and who you can laugh with.
If you are waiting for someone to give you permission or to tell you to start – consider us those people! Go do it! Be brave.
Q: When I face a big challenge…
S: Take a big breath and go at it full steam ahead!
A: Assume the position. Which is basically me laying on the floor. The I-can't-do this feelings roll, I feel them, then I get up, put my hands on my hips (superman style) roll my sleeves up & go towards the scary big challenge.
Q: The most courageous thing I've ever done as a woman is…
S: I ran off a cliff hang gliding and it turned out, being super courageous resulted in having super fun.
A: Leave. I was an incredibly shy kid, and I flew to London, by myself as a 19 year old & lived overseas for a year. It's still the bravest thing, because I'm so much more at home in my own skin now then I was back then.
Q: The best piece of advice I've ever been given is…
S: Expect nothing and be surprised! Or if I have enough money for ice-cream everything is going to be ok!
A: My uni friends told me that, they didn't know what they wanted to do with their one precious life either, and that I had plenty of time. I was 21 & they were in their late 20's & early 30's . Every time I hear stories about people beginning new things/adventures/careers in their 40's, 50's, 60's, 70's, my heart soars.
Q: My BGP (best gal pal!) would describe me as…
S: Kind, loyal, fun, generous – I hope that is what she thinks!
A:Creative, fun, the living colour wheel, a chip loving maniac, real. Cheesy.
Q: My favorite girl crush is… because…
S: Amy Poelher – because she is smart AND funny
A: Brene Brown. She's a shame researcher, among other things, need I say more?
Q: My go-to beverage order is…
S:depends on the time of day and weather - tea or gin & tonic…
A: English breakfast tea with a splash of milk.
Q: One book I've read that I've considered life changing is…
S: I don't read a lot, but I like to be told stories so I listen to all the stories my friends have read.
S: Anything Brene Brown has written.

Q: My favorite quote is…
S: 'When in doubt, make funny faces' - Amy Poehler
A: I want to think again of dangerous & noble things. I want to be light & frolicsome. I want to be improbable & beautiful & afraid of nothing as though I had wings.
-Mary Oliver

Social Media Handles:
Website: https://poppiesforgrace.com
Instagram: www.instagram.com/poppiesforgrace
Facebook: www.facebook.com/poppiesforgrace