Plush Content Co. with Amanda
"Believe in yourself to the point where you KNOW in your gut, THIS is what you're meant to be doing and do everything you can to make your dreams come true!" - Amanda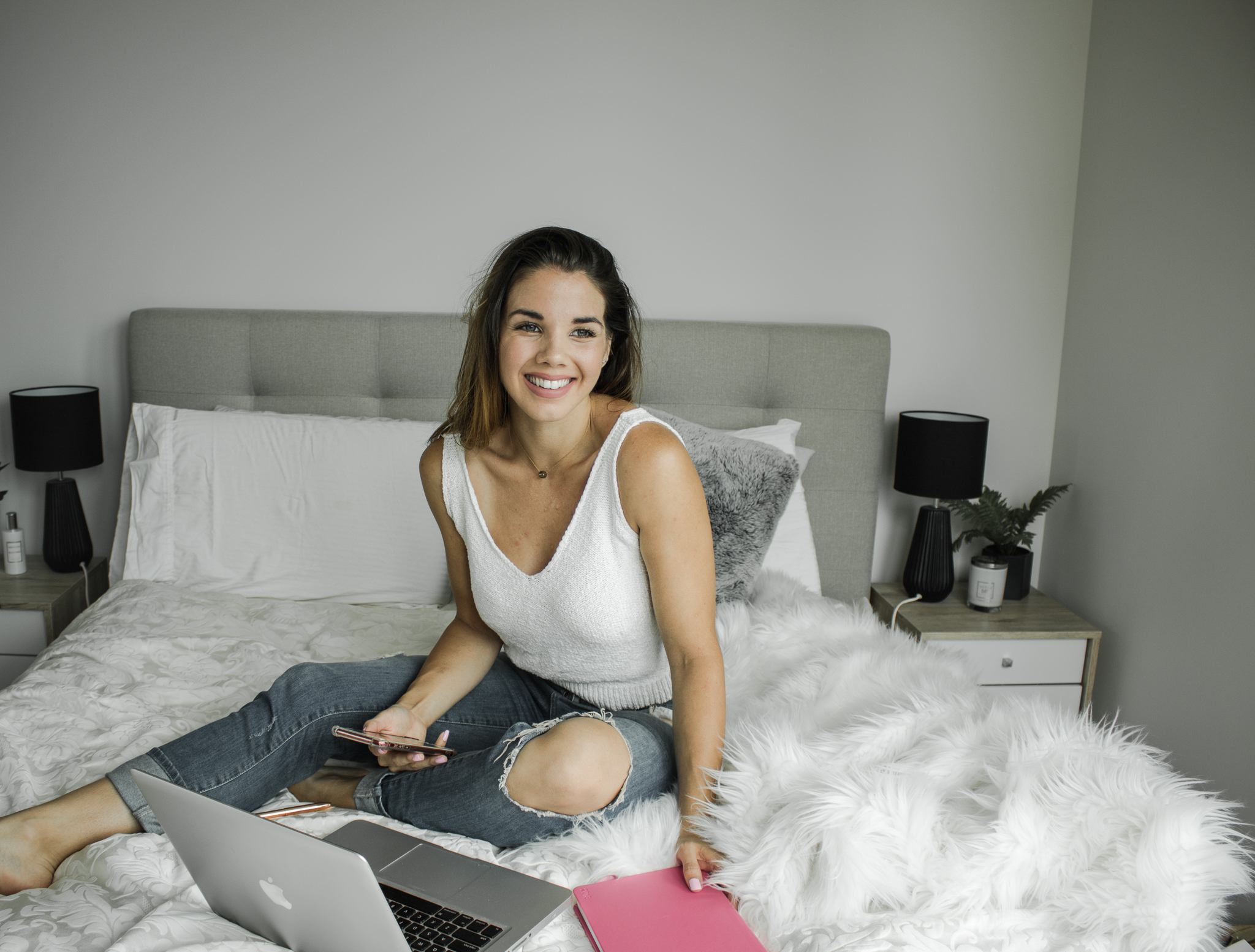 Q&A: Plush Content Co. with Amanda Campeanu
Q: Amanda, you have a clear passion for helping other women in business, specifically through capturing on-brand imagery. Can you Talk us through your brands mission?
A: My brand's mission is to empower other female business owners to sell their products or service with the utmost confidence and to be proud of what they're putting out there.
Our images become the handshake on social media, on our websites, on everything. Images can help make up the mind of a customer in just a few seconds, it's SO crucial to invest in your imagery so that when your dream client sees it, they instantly feel connected.
Q: What is the importance of people presenting quality content online?
A: It's so paramount to ALWAYS put out high quality content. I'm always saying on my socials, 'post with purpose'. This goes for your imagery as well. If you're a business trying to acquire sales through Instagram or even FB ads, your imagery will be the first thing people judge you by. If they like what they see, they'll read your caption or your ad copy and hopefully click through to your account or website.
The thing is, if your imagery is not high quality, people may not take you seriously as a business. And while that's not 100% true in all cases, that's the impression that low quality imagery can portray.
I've seen numerous small business accounts where their imagery has been taken on their phone. No editing, bad angles and it doesn't highlight the product at all. What you're selling DESERVES to be highlighted in the BEST possible way. If you have it in your budget to hire a brand photographer, I would highly recommend (and I'm not just saying that because I am one haha), but if you don't have the budget, at least invest your time into learning how to take better photos.
Q: In a time where so much of what is online, is not authentic, what are your thoughts on individuals putting themselves out there and showcasing the real person behind their Brand?
A: In all honesty I TRULY believe this is the key to success.
For some product based businesses, I get why people may not show the face behind the brand, but what showing the face does, is give the brand a personality.
For service based business you 100% need to show your face in order to stand out. People buy from people and a big part of my marketing strategy is to show people what I'm like as a person, how I live my life so that when they work with me, they actually know who I am. How can you buy from someone or a brand if you have no idea who they are or what they're about?
Q: You're juggling your full time job in finance and outside of work hours, you're building your dream business. What challenges are you currently facing?
A: Oh gosh, life in general?! Haha. I have 3 big challenges actually.
Time is my enemy. I combat this by setting myself 3 main goals each week to achieve as opposed to a massive to-do list. Those freak me out. I've realised that because I work full-time I can't be hard on myself

Managing anxiety and stress: Ever since uni, I've suffered from anxiety and I think a lot of other business women do as well. I often feel overwhelmed but I've learned when I feel like this, to step back and grab my pen and paper. Sometimes we feel like we have a lot to do whereas in reality we've just inflated our to-do list in our head.

Scaling: Just having brand photography as my business while working full-time, it's EXTREMELY hard to scale my business as I can only shoot on weekends. For me it's not sustainable to do shoots every weekend all weekend. Which is why i'm introducing new services to my biz very soon!
Q: I think a lot of women forget that taking 'me time' is important, you recently switched completely offline for a few weeks to take some much needed time for yourself. Can you tell us how you were feeling before and how you felt after?
A: In all honesty, I hated what I was doing before taking a break. I took on way too much work before heading off overseas for a holiday and literally every time an email came through my stomach churned.
I felt so anxious and stressed and worse, I wasn't performing my job to the best of my ability. I thought I could do it all and fit in last minute clients (I was afraid to lose their business) but now I wish I had said no. And that's not a reflection on my clients at all, it was purely my inability to cope with the amount of work I had.
So I took 2 weeks off social media AND my community was STILL there when I got back! Taking this time off also gave me a new perspective on where I want to take my biz. I don't think I'd be introducing a new service (that I hope people will love) if I didn't have that break.
Now, I have so much clarity on where I want my business to go, the kind of life I want, and how I'm going to get there. And better yet, I 100% KNOW I can get there.
Q: Do you have any words you'd like to share with our fellow launch gals who are juggling multiple things and might be struggling in their current journey?
A: Having clarity is the most important thing! I won't lie, it's taken me probably a year to gain clarity in my business but that's my own journey. My biz has evolved SO much over time and brand photography is just the beginning of my biz.
Take your time to focus on how you want to portray yourself to the world, and on your brading, and just trust the process. Yea, there'll be times when you want to give up, we all do. But believe in yourself to the point where you KNOW in your gut that THIS is what you're meant to be doing. Then do everything you can to make your dreams come true!
It's ALL about mindset!
Q: When I face a big challenge…
A: I firstly freak out, have a glass of wine, and then start a brainstorming sesh.
Q: The most courageous thing I've ever done as a woman is…
A: Is sing in front of an audience (and putting songs out on youtube … I dare you to try and find them!)
Q: The best piece of advice I've ever been given is…
A: Always keep your day job (until you can financially support yourself, then quit).
Q: My BGP (best gal pal!) would describe me as…
A: Kind, silly, smart, and inspiring.
Q: My favorite girl crush is… because…
A: Shay Mitchell (Emily from Pretty Little Liars) because she just totally owns who she is. She's freaking gorgeous as hell and she just does what she wants. I'm a big believer in doing what I want without answering to anyone else.
Q: My go-to beverage order is…
A: Coffee (or red wine, I don't have that for breakfast though just FYI).
Q: One book I've read that I've considered life changing is…
A: The Extraordinary Mind by Vinesh Lakahani
Q: My favorite quote is…
A: Never let the fear of striking out keep you from playing the game (I watched a Cinderalla story WAY too many times)
Social Links
Instagram: @plushcontentco