The Real Modern Day Gypsy with Meg Nolan
"It means finding peace and spreading as much kindness and sunshine as you can."
- Meg Nolan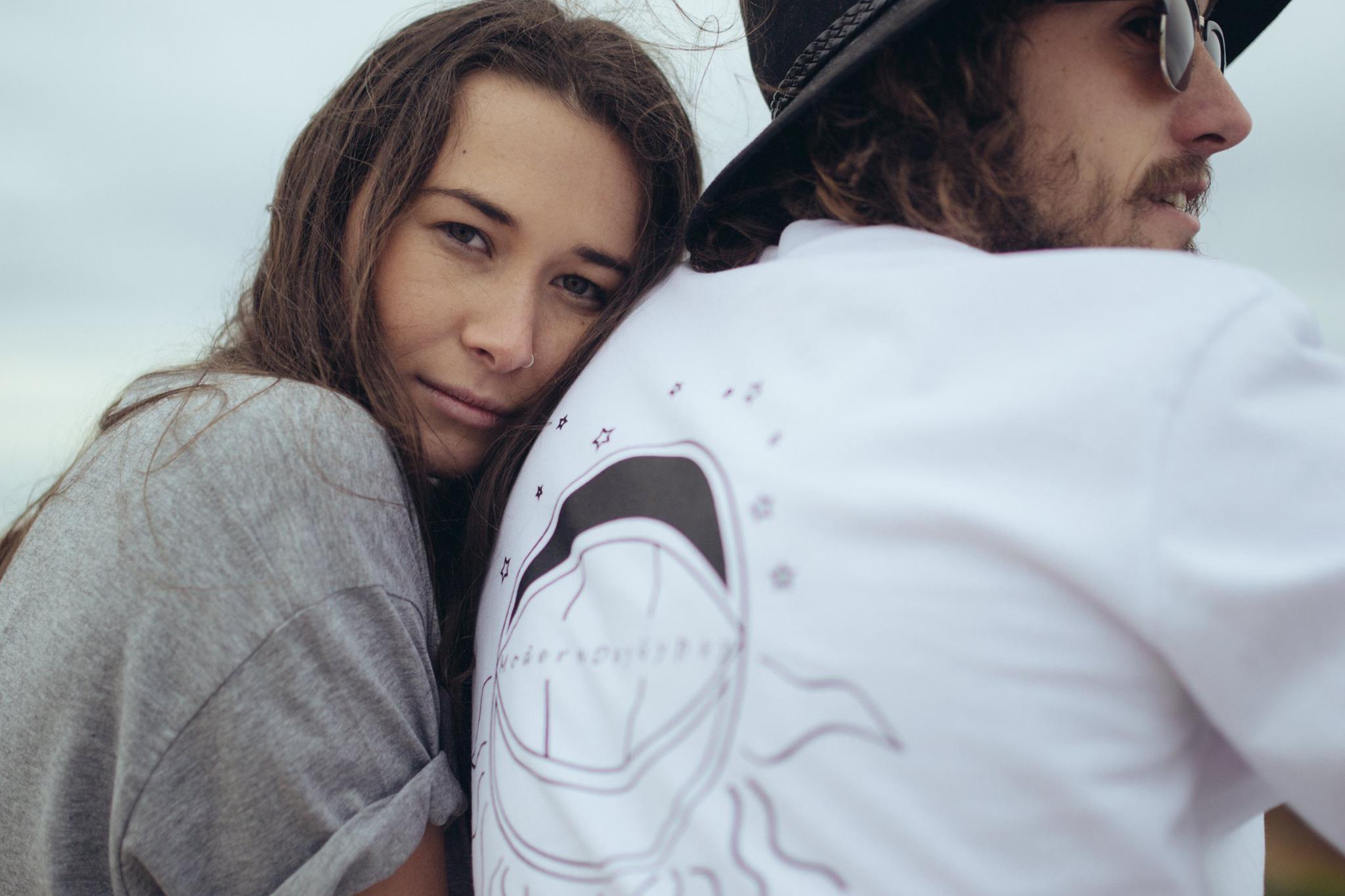 Q&A: The Real Modern Day Gypsy with Meg Nolan
Meg and her like-minded partner Tyler, created a clothing brand called the Modern Day Gypsy all while living it up in their bus, Luna Blue and sharing kindness, love and the freedom lifestyle with the people they meet along the way.
Q: It is so wonderful to see this transient lifestyle you have created for yourself, tell us about the journey that lead you to living in your bus, Luna Blue?
A:You know when things just happen? My partner and I went on a road trip a few years ago to Byron, and it just planted the idea of getting a van… but to LIVE in a van (I take my hat off to anyone who can do it!) We decided a bus was much more practical! So we went on the search for our bus, found our Luna, spent 7 months converting and building and here we are… living and creating out of our much loved little home that can take us anywhere. I honestly can't even remember what our original plans were before the bus… but there is no looking back!

 
Q: What does the 'modern day gypsy' mean to you?
A: It's that inner wild spirit that wants to run and jump and swim in the sparking ocean! It's living a life appreciating all the beautiful things around you; it doesn't mean you have to travel the world every day for the rest of your life. To me, it means finding peace and spreading as much kindness and sunshine as you can.
Q: Your clothing line has grown from just a few pieces to an entire range, but even more than that, it's grown into a community of people who wholeheartedly believe in creating freedom for themselves. Can you tell us about this community and how it has evolved?
A: All the people we have met and come across along the way is actually the best. When we started our brand, we decided we wanted to connect and work with genuine people who resonated with our brand. We didn't want to work with 'fast fashion' instagram influencers who take a quick photo then never actually wear our products. We have connected so many amazing people that we've had the pleasure of getting to meet and became great friends with. And it's just the beginning!
We love supporting people who have genuine love for what they do, and being apart of that journey is super special.
The community we have become apart of is literally just open-minded people who support each other, praise each other and it makes you feel good.
Q: Why was it so important for you to create your own lifestyle and fill it with sustainability and positivity?
A: Creating your own life, it's important for everyone. We took some time learning what it is we wanted to create and what kind of lifestyle we wanted to have. We have always been sustainable and have immense care for the environment, living in the bus is a whole new step towards a sustainable lifestyle for us, it's been a real eye opener about how to live a minimal life with a much smaller impact on our beautiful earth.
We aren't perfect, but every single day we are becoming more aware of how to reduce our footprint and to encourage others to do the same.
Being positive is something we pride ourselves on, it can change your entire day, it makes life a whole lot easier and happier. It takes heaps of practise as well, but it is something we (Tyler and I) value very much – especially being in such a tiny space – the energy you send out to the world, other people and to each other is really important.
Q: Do you have any daily habits or practices that you believe make a positive impact to your day-to-day?
A: Absolutely. There are so many things in my day that affect how I feel, being a super emotional being can sometimes be REALLY hard as I pick up on other people energies very easily. I always try and go for a walk or swim every day - helps me to stay grounded and reflect on the day or week. I ride my bike every day as well, that keeps my endorphins going, we aren't meant to sit still all day – and physical and mental health are so connected so that keeps me moving. I try to smile and talk to strangers, try and do something kind for someone every day. I have a journal that I write or scribble in and this is something that I genuinely enjoy doing.
The biggest one for me is water, to wash away the day or to rejuvenate for the next day – this can be a quick dip, float or even just a shower at the end of the day.
Q: Do you have any words you'd like to share with our fellow launch gals who are wanting more freedom and positivity in their lives, but might be struggling in their current journey?
A: To be open to anything that comes your way, be open to learning new things, meeting wonderful people. Just to be ready to make the change, I still struggle as well…. So many people are going to tell you that what you are doing is crazy BUT as long as you believe in it and are happy what you are doing there is nothing crazy about it at all. Be supportive of all the people around you as well, no matter what they are doing, every single person is on a different journey and making their own lifestyle, sometimes we get so caught up in our own we forget to appreciate the beautiful people around us. Once you start seeing and appreciating the little things, like the sun coming up, a quick love hug or the wildflowers on the side of the road; life become a whole lot more free. It's different for everyone, its just about finding your freedom.
Q: When I face a big challenge…
A: I generally seek different advice from my nearest and dearest. Stay as grounded as I possibly can (going for a swim works for me) And stay as positive as I can while I seek to find a resolution.
 
Q: The most courageous thing I've ever done as a woman is…
A: To follow my heart when I was 19 and move across the country when everyone was telling me I was crazy. It all worked out the way it was meant to, even though it was so far away from my original 'life' plans. To just be myself and be proud of who that is.
 
Q: The best piece of advice I've ever been given is…
A: I'm not really sure… this is super tough. BUT to always let go of the small stuff and no matter what it is you are doing to be happy. AND to never judge, you never ever ever know what's going on in someone's life or mind, so always be there for someone with a smile and not judgement. That's what I was taught.
 
Q: My BGP (best gal pal!) would describe me as…
A: So… I ended up asking her.. I couldn't answer this myself! She said, positive, energetic, creative, kind and caring.
 
Q: My favorite girl crush is… because…
A: Too many to say ONE. I love women who are themselves, bold or not. They are individual and don't care what others say, they also encourage everyone around them to just be THEMSELVES. That's what I love about women. And that's the kind of woman I want to be and to surround myself around.
 
Q: My go-to beverage order is…
A: Ohhhh always, no matter what the occasion, a delish glass of red wine, on ice or not. That's my favourite. OR an icy beer with Tyler.
 
Q: One book I've read that I've considered life changing is…
A: SO tough again … it's a romance novel, called 'Mistress of Rome' by Kate Quinn. I have read it a few times, its one of my all time favourites, the power of love is amazing. Wouldn't say its changed my life but it's up there.
Q: My favorite quote is…
A: I have so many!! I cant pick so here are a few of my faves...
"If all girls were taught how to love each other fiercely instead of how to compete with each other and hate their own bodies, what a difference and beautiful world we would live in" – Nikita Gill.
"Don't live the same year 75 times and call it a life."
"I'd rather poetry in my hair and paint beneath my feet, than caviar on my table and diamonds to keep." – Tess Guinery